Specifications
Brand: FullChea
Net Weight: 150g / 5.29oz
Grade: AAA
Packaging: Bag
Shelf Life: 18 months
Place of Production: Xinjiang China
Production Date: 2022
Xinjiang's unique Kunlun mountain snow daisy is bathing in the sun and rain, absorbing the essence of the Kunlun Mountains, interpretation of the beautiful legend. The fresh breath nourish the youth's face when the charming buds bursting its bright colors in the water. Snow daisy can disperse wind-heat, care for kidney and it also has a profound significance in the rapying the head and eye desease cause by wind-heat. Snow daisy care for intestine, stomach, meridian vessel, blood and adjust the limbs.


According to legend, for the first time the local shepherds drew attention to these flowers – they gathered yellow cheerful inflorescences and, drying them in a natural way, began to brew regularly as tea.
Rumors of the miraculous power of yellow flowers began to spread throughout the district; The locals bat'leth them as a sacred gift to the most expensive guests
Also it is sometimes called "bloody Chrysanthemum from the mountain Kunlun".





Useful Properties of Tea:
1. Reduces heat.
2. Normalizes metabolism and promotes promotes.
3. Normalizes bowel function and all related problems.
4. Works as a soothing remedy.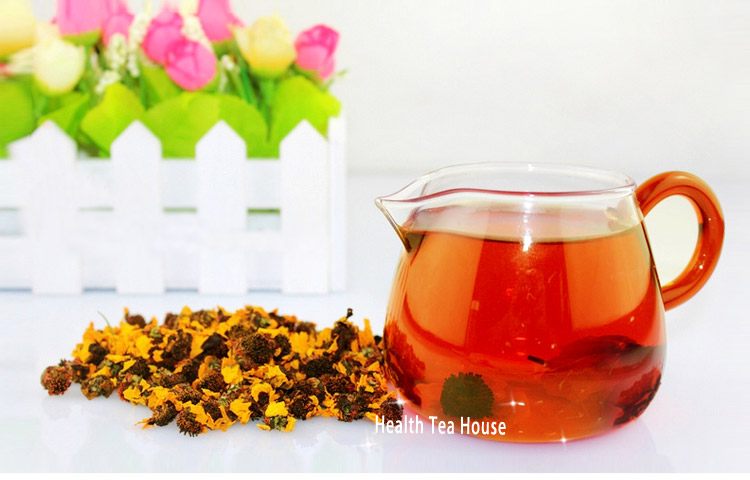 Snow chrysanthemum brewed, like most Chinese teas. For tea drinking is taken 4-6 grams of dry tea on 150 grams of water. The flowers are washed with water with a temperature of 90-95 degrees 3-5 seconds. The first welding is fused. The second and subsequent can be drunk. The duration of insisting is chosen by experienced way, but it is important to observe one rule – not to brew it too much. Pour is worth water with a temperature of 85-90 degrees. Tea withstands about five straits.
If you decide to brew a chrysanthemum in a thermos, then one liter you will need 3 grams. This quantity will be enough for the infusion to be saturated.
To brew tea is better in porcelain gaiwan. You can use a glass kettle.
In China, tea from the flowers of the snow chrysanthemum prefer to drink in cold weather.

Storage of this type of tea is recommended in a tightly sealed package, in a dry cool place, away from direct sunlight.