Specifications
Brand: FullChea
Net Weight: 64g
Grade: AAAAA
Shelf Life: 36 months
Place of production: Chaozhou, Guangdong Province
Production Date: 2020
8 bags of different kinds of Phoenix Dancong teas, 8g per bag, 64g in total. Chaozhou kungfu tea is deeply loved by people. Many people in Chaoshan will brew a pot of tea in the morning, drinking when they feel sleepy. People in Chaozhou like meet friends with drinking tea. They like to drink tea with friends when have a chat or exchange of information. Drinking tea is not only for quenching thirst, but contains rich cultural content. Tea is called "tea rice" by Chaozhou people because tea is just as important as rice in their heart. It is known by world that people of Chaoshan like drinking Kungfu tea. Chaozhou Phoenix mountains is the cradle of Phoenix Dancong. You can see Kungfu tea everywhere in Chaozhou, and the tea is Phoenix Dancong forever.

Composition of the Set:

1. 'Eight Immortals' Dancong tea
2. 'Large Black Leaves' Dancong tea
3. 'Bai Ye' Dancong tea
4. 'Duck Feces Fragrant' Dancong tea
5. 'Yellow Sticks Fragrant' Dancong tea
6. 'Huang Zhi Fragrant' Dancong tea
7. 'Magnolia Fragrant' Dancong tea
8. Classic Dancong tea
Buying this set in the Health tea House, you can appreciate and feel how different can be tea grown on two neighboring tea trees.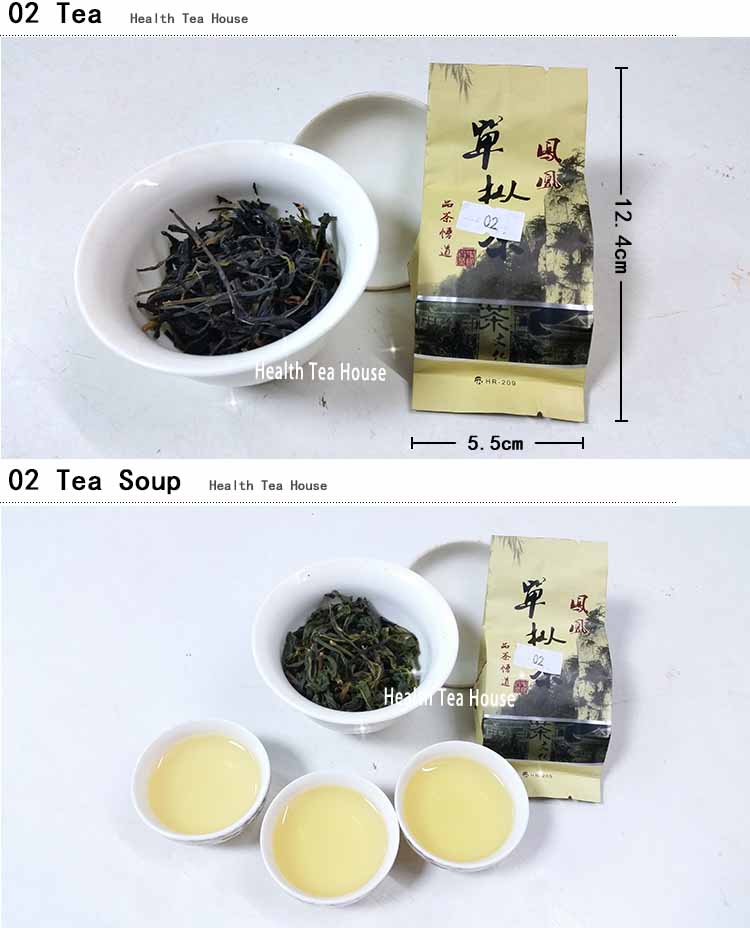 Brewing method:
1.Rinse the glass teapot with boiled water ( 100°C).
2.Take about 7-8g Dancong Tea, pour a little boiled water ( 100°C), fast pour away the water.
3.Pour boiled (100°C ) into glass teapot, 25-30 seconds latter you can enjoy it.
Additionally, allow to extend 10 seconds according to personal preference at the following brews

Tips:
Do not use for the preparation of this capricious, by the nature of the tea hard water. Soft water is recommended. When using hard water you will get an unpleasant bitter smack, and all the pleasure of tea will go drain.
Storage of this type of tea is recommended in a tightly sealed package or glass container, in a dry cool place.