Packing: Gift bag. Mini Tuo-Cha, packed in individual paper packaging. 10 kinds x 5 pcs. Total 50 pcs.
Note: The gift bag can be of the following colors: Pink, blue, purple, orange, yellow, red, green. If you have a wish by color, please inform them when you order. Otherwise, the color will be randomly selected.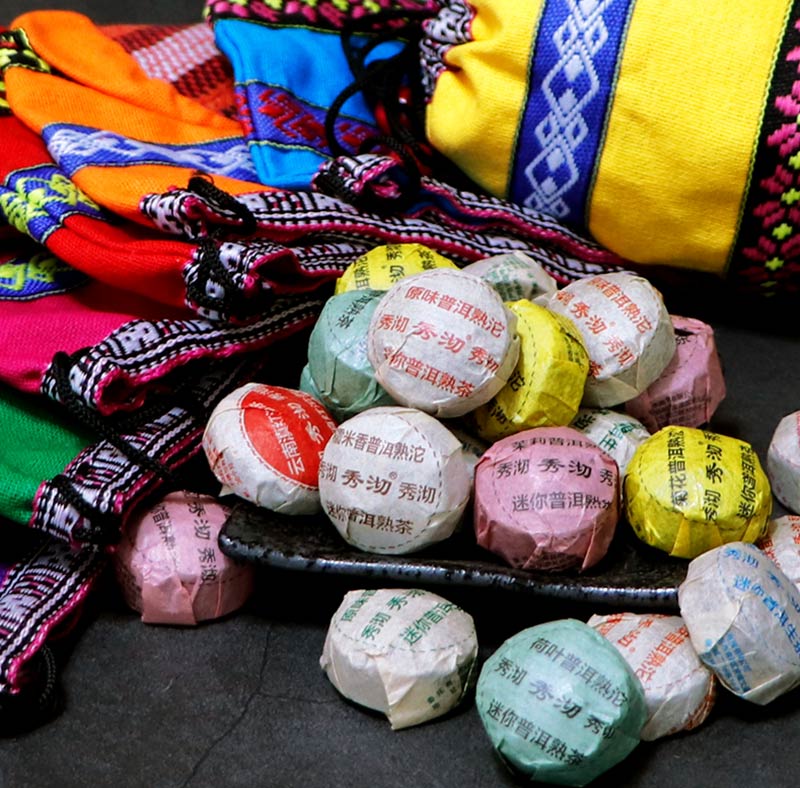 The tea is available in 2 different packages and will be sent randomly.

This product includes 10 kinds of mini puer tea, each kind of puer has 5 pieces, total 50 pieces. The tea net weight is 270g.
Because the puerh has no shelf life, and the puerh`s tastes will become more delicious with their years increase, so their price would keep rising, and you can order more if you like this kind of tea. It`s worth to purchase and collect at present.
Pu-erh tea can be purchased as either raw/green (sheng) or ripened/cooked (shu), depending on processing method or aging. Sheng pu-erh can be roughly classified on the tea oxidation scale as a green tea, and the shou or aged-green variants as post-fermented tea.
Unlike other teas that should ideally be consumed shortly after production, pu-erh can be drunk immediately or aged for many years; pu-erh teas are often now classified by year and region of production much like wine vintages.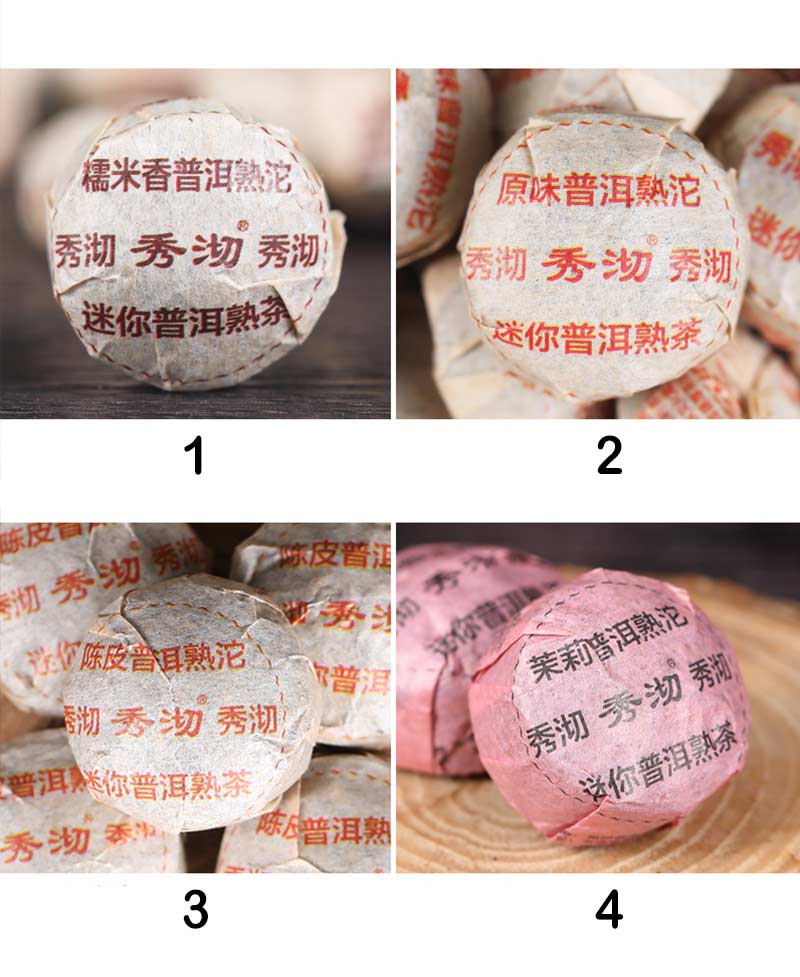 Composition of the Set:
1. Glutinous Aroma Rice Ripe Puer
2. Original Taste Ripe Puer
3. Dried Tangerine Ripe Puer
4. Jasmine Ripe Puer
5. Lotus Leaves Ripe Puer
6. Rose Ripe Puer
7. Chrysanthemum Ripe Puer
8. Dianhong Ripe Puer
9. Glutinous Aroma Rice Raw Puer
10. Original Taste Raw Puer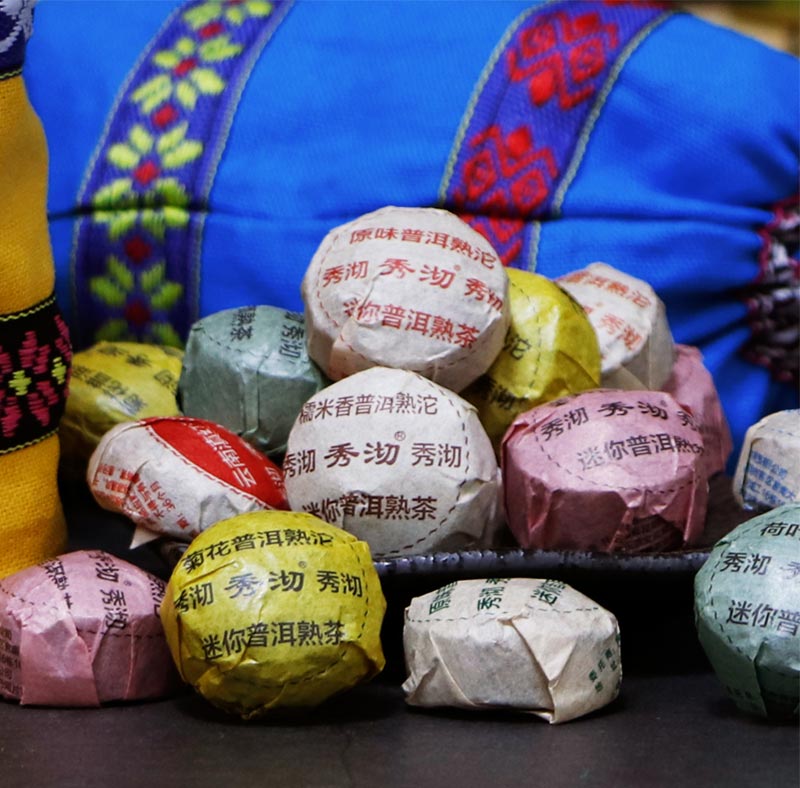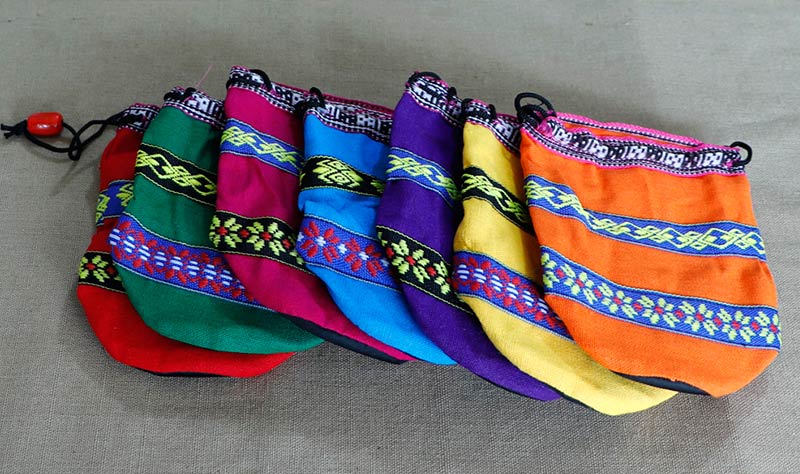 Pu 'er Tea Health Care :
1. Long-term drinking pu 'er tea has the beauty, slimming lipid-lowering,
2. Prevent three HIGH disease (high blood pressure, high blood sugar, high cholesterol)
3. Anti-cancer, cool and refreshing thirst quencher, sober, warm stomach,
4. Prevent arteriosclerosis, prevent coronary heart disease (CHD), to the effect of fatigue, off-dry.
5. Often drink the tea can fitness, improve nutrition, promote metabolism, enhance human immunity,
6. Anti-aging, and Skin care health care .
Three cups every day make your days refreshing, Beautiful, relieving
A cup of Tea in morning, refreshing Brain, energy a day.
A cup in afternoon, regulate endocrine, beautiful temperament from the inside out.
A cup in evening, relieve fatigue, tranquilizers to sleep.

Brewing method:
1. Take about 8g tea, put them into the Glass Teapot.
2. Pour boiled water into the Glass Teapot.
3. About 5-8 seconds later, separate the tea and water at the first-round brewing.
4. From the following brews, separate the tea and water within 5 seconds.